I found this alien-demon friendly children's book on the SyFy site:
This is what the alien-demons actually look like
in the SyFy series which reflects the book.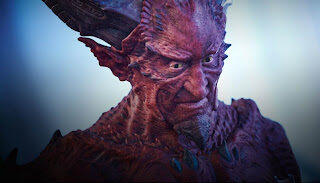 FYI: I posted Arthur C. Clarke 1953 AD "Childhood's End" audio book here.
It has obviously been very influential as it includes giant alien spacecraft being stationed over Earthly cities (as in the new War of the Worlds, District 9, the new V series, etc.), it contains ancient alien astronauts themes, it contains mystic-mythological-theology as the ancient aliens had been confused with being gods, demons, etc. and takes us on a journey long into the future.
The story has a slimily to the Fantastic Four's character Silver Surfer who was a mere forerunner for Galatus whom Jack Kirby considered a fallen angel.
I ran across some songs that were inspired by the book however, some of them employ the term "childhood's end" in a general sense and so without specific reference to the book.
"Childhood's End" Pink Floyd's 1972 AD album "Obscured by Clouds," "Childhood's end, Your fantasies merge with harsh realities. All the fears never voiced say you have to make your final choice."
"Watcher of the Skies" Genesis' 1972 AD album "Foxtrot," "Watcher of the skies, watcher of all. His is a world alone, no world is his own. Has life again destroyed life, do they play elsewhere. Do they know more than their childhood games?…Do you judge God by his creatures when they are dead? For now, the lizard's shed its tail."
"Childhood's End?" Marillion's 1985 AD album "Misplaced Childhood," "And it was morning. And I found myself mourning, for a childhood that I thought had disappeared. I looked out the window. And I saw a magpie in the rainbow, the rain had gone. I'm not alone, I turned to the mirror. I saw you, the child, that once loved…There is no childhood's end. You are my childhood friend, lead me on."
"Childhood's End": Iron Maiden's 1992 AD album "Fear of the Dark," "You see the full moon float. You watch the red sun rise. We take these things for granted. But somewhere someone's dying…No hope, no life, just pain and fear. No food, no love, no seed. Childhood's end."
"Childhood's End" Majical Cloudz's 2013 AD album "Impersonator," "Someone died. Gun-shot, right outside. Your father, he is dead. I see him in my head. Childhood's End. Goodbye, my holy friend. Love me, it's a sin. Can you see me caving in?…Brother's feel. Killing time standing in the field [Cain and Abel?]. Our fate, it is sealed. At birth we made a deal. I don't cry. God tell me why. Love death. Night flight. Best friend crucified."
There is also a 2012 AD "Childhood's End" album by the band Ulver.