This is a segment of an essay which presents quotes from a book by Professor Edward G. Brown who is favorably mentioned in Baha'i writings.1 It is a fascinating account of how the Baha'i Faith was presented in the North America by its early proselytizers.
There is a section in Professor Brown's book Materials for the Study of the Babi Religion, which is titled II-Ibrahim George Khayru'llah and the Baha'i Propaganda in America.2 This section deals with Dr. Khayru'llah (or, Kheiralla) who "reached America in the course of the year 1893, and almost immediately began his propaganda." Also mentioned is the violent clashed between the two groups that formed, one following `Abbas Efendi, a.k.a. `Abdu'l-Baha, and the other following his half brother Muhammad `Ali. `Abdu'l-Baha was a follower of his father Baha'u'llah, while Muhammad `Ali was a follower of Baha'u'llah's half brother Mirza Yahya, a.k.a. Subh-i-Ezel or Azal (for more on this issue see our article Unity, Equality and Tolerance and The Case of the Traveller, Part 2).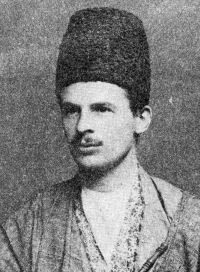 Professor Edward G. Brown
Professor Browne was given some notes taken at Dr. Khayru'llah's lectures. The Professor states that they "throw so much light on the methods employed by him and the form given to the Baha'i doctrine in America that I think it worthwhile to quote them in full," he does so in his book while we will quote in part.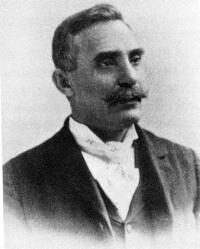 Ibrahim George Kheiralla / Khayru'llah
The notes states,
"Dr. Kheiralla, has made the most astounding statements regarding Beha [Baha'u'llah], but the proofs brought forward are sadly inferior to the claims set forth, so it seems to me. Most of them are verses taken from the prophetic books of the Bible. According to this doctor, Beha was God Himself. He teaches that god did not manifest through the personality of Beha, as in the case of Jesus, but that He really was God, and that He will not come again during this cycle. We are all called upon to believe this, or else forever lose our chance of salvation…Those who die without hearing of Beha are reincarnated and have another chance; those who have already heard do not. Believers see their friends who are not in the earth-body…Mirza Yahya is scarcely spoken of, but when he is mentioned he is called Satan…there is not the slightest reference throughout the entire course to the development of character, and those who claim an inner guidance are particularly censured and ridiculed…At the last lecture the people are told, if they believe in the 'Manifestation,' to write a letter to `Abbas Efendi, who is a reincarnation of Jesus Christ, stating their belief and begging to have their names recorded in the 'Book of the favorites.' They are informed that Abraham, Jacob, Moses, Joshua, and Daniel are reincarnated and are at Acre, the 'Holy Place.' The doctor further says that he has been sent by the Father and Jesus Christ to deliver the message concerning the 'Manifestation' to the people of this country…

He claims there are fifty-five million believers at the present time. A great mystery is made of the whole thing and the ideas are given out in minute portions, as we, it seems, are account slow of understanding in this country. The 'message' or 'pith,' as it is called, is not given until the eleventh lesson."3
Professor Browne states,
"I am much surprised to learn of the error made in the number of Beha's followers, for I sincerely believe that Dr. Kheiralla would not willfully make a false statement. I have noticed that his intense zeal and love for the cause make him at times use extravagant language, and I have made due allowance for this."4
The notes continues,
"Besides stating that there are at present fifty-five million believers, he told us in his last lecture that there were forty millions at the time of Beha's death in 1892."5
Next, a letter is quoted which was given to the students so that they may write to `Abdu'l-Baha the Greatest Branch to seek enrollment in Baha'ism,
"To the Greatest Branch, In God's Name, the Greatest Branch, I humbly confess the oneness and singleness of the Almighty God, my Creator, and I believe in His appearance in the human form…"6