I ran across a very interesting, refreshingly honest and theologically bankrupt story about a December 15, 2009 AD art exhibit about "Our Lady of Guadalupe" which the article also calls "the Virgin of Guadalupe."1 This exhibit, which will take place at the National Hispanic Cultural Center in Albuquerque, New Mexico was announced in a local newspaper as a "Feast, exhibit" since the "art show will be joined by the Feast of Guadalupe Celebration."
Why "refreshingly honest and theologically bankrupt"? Because of the feast/exhibit's title and its explanation.The title of the exhibit is "Guadalupe: Goddess of the Americas." Theresa Avila, the curator of the feast/exhibit, made the generic and incomplete statement that, "The title was set already."
Set or not (whatever that may mean) Roman Catholics will surely, at the very least, call into question referring to Our Lady of Guadalupe/the Virgin of Guadalupe as a "Goddess." The article refers to the apparition as being that of Mary "Jesus' mother." Granted, the apparition has always been treated as a goddess by many, including some Roman Catholics. In fact, during the Vatican II the Bishop of Cuernavaca, Mexico stated, "Devotion to Mary and the saints, especially in our countries, at times obscures devotion to Christ."2 Yet, the fact is that Roman Catholicism remains monotheistic.
I have researched and written much about the issue of Marian doctrine and dogma in Roman Catholicism and will direct the interested reader to MARY in Roman Catholicism and the essay therein which touches upon the Guadalupe incident, Examples of Extreme Deception. Also of interested may be the consideration of the image itself, On the Treatment of Images, part I of II
The article states:
It all started in 1531 when the Virgin came to local peasant Juan Diego on a hill outside of Mexico City. He told the local priests what he saw and they didn't believe him until he showed them a miracle she'd performed. The local Catholic bishop Commissioned a church in her honor and she became an icon and powerful symbol.
Let us note that the event occurred in 1531 AD and that the earliest written narration of this event dates from 1649 AD.3 The apparition actually told Juan Diego:
I wish that a temple be erected here quickly, so I may therein exhibit and give all my love, compassion, help, and protection, because I am your merciful mother, to you, and to all the inhabitants on this land and all the rest who love me, invoke and confide in me; listen there to their lamentations, and remedy all their miseries, afflictions and sorrows. And to accomplish what my clemency pretends_that here on this plain a temple be built to me_Be assured that I will be most grateful and will reward you, because I will make you happy and worthy of recompense for the effort and fatigue in what you will obtain of what I have entrusted_.[fourth apparition] Am I not here, who is your Mother? Are you not under my protection? Am I not your health? Are you not happily within my fold?
The theologically/biblically discerning reader will instantly note that whatever this apparition was, if it did take place, it was attempting to set itself up as a replacement of Jesus. The apparition specified that "here on this plain a temple be built to me"; firstly, Juan Diego should have asked "And just who are you that at temple is to be built for you?" or better yet, "The LORD rebuke you!" For, where was "this plain"? "The apparitions occurred at Tepeyac, a small hill and a former sanctuary to the Aztec goddess Tonanzin [or, Tonantzin]. Mary asked Juan Diego to request that the local bishop build a church on that site."4
At the time, Fray Bernardino de Sahagun referred to the apparitions as a "'satanic invention,' because of his fear that the indigenous would return to their old idols."5 How wise was he? Not only have the indigenous return to their old idols, the Aztec goddess, (or found a new one) but the new world followed the old and today we have the Goddess of the Americas. This is how it has been since the beginning as any act of devotion to whatever this apparition was takes away from Jesus.Consider, for good measure, three Vatican approved translations of the Apostle Paul's warning in 2nd Corinthians 11:3.
The New Testament Rendered from the Original Greek with Explanatory Notes (Kleist-Lilly translation),
But I fear lest, as the serpent seduced Eve by his cleverness, so your thoughts may be corrupted and fall from the single-minded devotion and purity you owe to Christ.
The New Testament of Our Lord and Savior Jesus Christ (trans. from the Latin Vulgate Challoner-Rhemis version),
But I fear lest, as the serpent seduced Eve by his guile, so your minds may be corrupted and fall from a single devotion to Christ.
The New American Bible,
But I am afraid that as the serpent deceived Eve by his cunning, your thoughts may be corrupted from a sincere [and pure] commitment to Christ.
The article announcing the Feast/exhibit states, "She's the protector of the New World_the Virgin permeates art from the Americas because of her power_the Virgin is more powerful because of who she is, and who she'd become."
Even if we accept the Roman Catholic concept of "to Jesus through Mary" we find that people such as Theresa Avila are all too pleased to redirect the line which hopefully leads to Jesus through Mary and repaves a road that now goes from Mary, away from Jesus, away from Roman Catholic monotheistic theology and back towards polytheistic Pagan idolatry.
Chuy Martinez, who organized the musical aspect event, stated:
It's important to those of us in New Mexico_She's an international icon. In Mexico, it's more because she's a uniter, you know, for this time, for the Guadalupe, everybody from all social backgrounds and classes get together and they believe in this Virgin. They adopted it. It goes beyond the faith.
Indeed, it goes beyond the Christian Roman Catholic faith and directly into polytheistic idolatry as it no longer has any relevance to Jesus.
Avila stated, "She's universal. She ties into the ideas of the mother goddess and the origin myths, and there's links to pre-Colombian stories_She's a woman. She was accepting of her role."
Indeed, and part of her role was to urge us to "Do whatever He [Jesus] tells you" (John 2:5) and not to demand that a temple be erected in her honor, not to tie into the ideas of the mother goddess and origin myths, not to exhibit and give love, compassion, help, and protection, not for us to invoke and confide in her, not to protect us, to heal us or anything of the sort. The true Mary knew of no such things and each of these, and more, specifically removes Jesus from these roles, roles which belong to Him alone, and replace Him with a Mary whom Jesus would never recognize as His blessed mother.
Moreover, Avilar states, "She's nonjudgmental. She's not on a cross. She's not looking down from heaven."Yet, the gospel is about judgment, judgment for sin and Jesus salvation which He purchased for us on the cross.This is actually a Roman Catholic concept that is as popular as it is fallaciously un-biblical. It is viewing Jesus as the stern and uncompromising judge whom we must fear and Mary as the friendly helper who intercedes for us. Consider the words of a very popular Marian devotion in the form of "Our Mother of Perpetual Help":
O Mother of Perpetual Help, thou art the dispenser of all the goods which God grants to us miserable sinners, and for this reason he has made thee so powerful, so rich, and so bountiful, that thou mayest help us in our misery. Thou art the advocate of the most wretched and abandoned sinners who have recourse to thee.Come then, to my help, dearest Mother, for I recommend myself to thee. In thy hands I place my eternal salvation and to thee do I entrust my soul. Count me among thy most devoted servants; take me under thy protection, and it is enough for me.For, if thou protect me, dear Mother, I fear nothing; not from my sins, because thou wilt obtain for me the pardon of them; nor from the devils, because thou art more powerful than all hell together; nor even from Jesus, my Judge himself, because by one prayer from thee he will be appeased.

But one thing I fear, that in the hour of temptation I may neglect to call on thee and thus perish miserably. Obtain for me, then, the pardon of my sins, love for Jesus, final perseverance, and the grace always to have recourse to thee, O Mother of Perpetual Help.
Note the highlights (or lowlights); it is Mary who dispenses God's goods, she is our advocate, we may pray to her, our salvation is in her hands, we must devote ourselves to her, but why?Because she protects us from-note the correlation here-our sins, devils, hell and Jesus. "And what communion has light with darkness?" (2nd Corinthians 6:14).
Consider Everything the Bible Says About Mary and you could not even dream of any such role being fulfilled by her-she most certainly never did.
Lastly, note the claim that "She's not looking down from heaven"; while I certainly do not know where she is supposed to be, the fact is that she appears to be hovering in heaven as she is held aloft by an angel and stands on a black crescent moon. This image allegedly miraculously appeared on Juan Diego's clothing.That she has the moon under her feet means that the apparition is being identified with the woman in Revelation 12. Note vss. 1-2:
Now a great sign appeared in heaven: a woman clothed with the sun, with the moon under her feet, and on her head a garland of twelve stars. Then being with child, she cried out in labor and in pain to give birth.
The woman in this text is suffering from the stain of original sin, pain in childbirth, which contradicts traditions about Mary. This leads to contradictions in official Roman Catholic teachings because either Mary was born immaculate (without original sin) but is not the woman in Revelation 12 or she is the woman in Revelation 12 but was not born immaculate; Catholic dogma cannot have it both ways.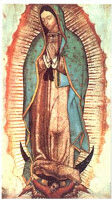 God the Father painting the allegedly miraculous image of Our Lady of Guadalupe
Mary, the woman, with the moon under her feet
Earliest rendition of the apparition story, from 118 years after the event
~~~~~~~~~~~~~
PS: I wrote to the Archdiocese of Santa Fe four times in order to inquire and received no reponse.
This is what I wrote to them:
To whom it may concern,
My name is Mariano Grinbank, I am a researcher who occasionally writes articles about local issues/events.
I had a question about the Dec. 15th National Hispanic Cultural Center exhibit featuring various forms of artwork depicting "Our Lady of Guadalupe."
I was wondering firstly, whether the Archdiocese of Santa Fe was in any way involved, officially or unofficially, with the exhibit-which the Albuquerque Journal reported as a "Feast, exhibit" [on Dec. 13]?
Secondly, I am curious about the Archdiocese of Santa Fe's opinion of the title of the Feast/exhibit which is "Guadalupe: Goddess of the Americas."
Is this considered theologically sound? In keeping with Roman Catholic theology? I ask this particularly in light of the fact that the Virgin Mary is the mother of the one and only God?
Thank you for your time and attention,
Mariano Grinbank